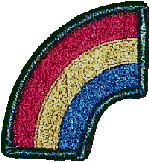 The shoulder patch of the
Rainbow Division
Jay finished 3 years of highschool and began driving trucks for a living.
On July 1, 1943, his older brother, William Jr. or "Indian" as he was called, enlisted in the military and
barely a month later, on August 3, 1943, so did Jay.
He was sent to Europe and served in the 42nd Division, also known as the Rainbow Division.
According to a younger brother, Jay was wounded in combat and then got himself into trouble in Italy.
As the story goes, he had met a girl who he was head over heals for.
He and a buddy went AWOL, stole a Jeep and impersonating an officer, went to get the girl.
Eventually the Military Police caught up with them and Jay resisted arrest, but to no avail.
He was imprisoned in the U.S. Military Disciplinary Barracks at Leavenworth, Kansas.
He was there for about 8 years, from the late 1940's to the early 1950's.

Distinctive Unit insignia of the
Rainbow Division